PhD Candidate? Join SULF!
Do you love research but are worried about what will happen after you graduate? Alone with your thesis and a supervisor relationship that's not working? Wondering what will happen if your funding dries up before you present your thesis?
As a member of SULF, you get help and support. We want to make it easier for you to focus on your research!

There are many advantages to membership of SULF
As a doctoral candidate in SULF, you enjoy a variety of benefits. The membership fee for doctoral candidates with paid position is only 125 SEK per month.
Strength!
SULF is the only union that represents doctoral candidates, teachers and researchers at universities, colleges and research institutes and no other categories of employees.
We can deal with local issues. We are where you are. SULF has active SULF associations at every university and university college.
Security!
Affordable insurance and good banking terms.
Income insurance included in membership fee.
Knowledge!
Most of our members have been doctoral candidates so knowledge and experience of this situation forms a natural part of SULF expertise.
We are experts on university regulations and, consequently, doctoral candidates' rights.
Apply for membership in SULF!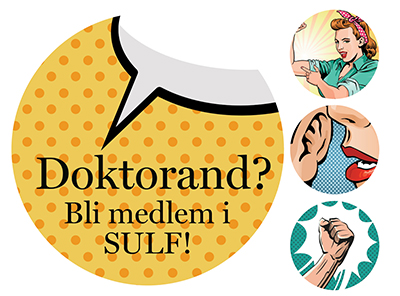 SULF has the best-educated members in Sweden. SULF is the association for university teachers, researchers and doctoral candidates. Read more about why you should be a member an your membership benefits.  Apply here.
Remember to apply for membership in Akademikernas a-kassa, the unemployment fund.
Are you monitoring your rights?
As a state-employed doctoral candidate you enjoy the same conditions as other government employees including holidays and sick-pay.
As a doctoral candidate, you are entitled to parental leave regardless of whether you are employed or on a scholarship.
Parental leave and illness are examples of circumstances that entitle you to study extensions and are not included in your study period.
If your relationship with your supervisor is not working, you are entitled to change supervisor.
You are entitled to be free from work on your vacation and the same rules about saving vacation apply to you as to other government employees.
As a doctoral candidate, you have the same opportunities as everyone else to become a member of, and receive benefits from, an unemployment insurance fund.
Want to know more? SULF has collected all the information you need here.
SULF makes a difference for doctoral candidates
Are you considering your next step?
You can find more advice, support and tips under the menu Work, salary and benefits. However, this can never replace the personal contact you enjoy when you talk to one of our expert union officials. SULF membership also brings the opportunity to get advice and help whenever you need it.