New membership benefit - Chefstidningen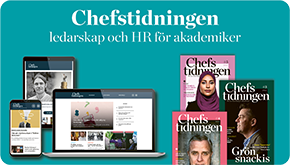 Right now, all members can subscribe to Chefstidningen magazine for half price, SEK 39 per month. Chefstidningen focuses on leadership, organisation and HR for academics. It monitors developments in research, interviews interesting managers and is a source of inspiration and guidance. With a subscription, Chefstidningen will be delivered to your home eight times a year and you will have access to locked articles on the web, the e-magazine in the Chefstidningen app and the e-magazine archive of previous issues, as well as a weekly newsletter about leadership, HR and organisation.
Read more and subscribe here (in Swedish).
More information
All membership benefits that are included in a SULF membership.